Example of Low Quality Composite Manhole Cover
Today let's us introduce the low quality manhole cover: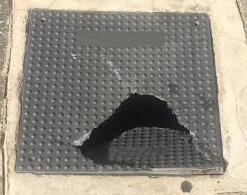 We can see that the manhole lid's height is very thin and the fiber materials also clearly. Probablly the height is about only 1mm.Its very dangerous when people and bicycle through it.
If use good quality manhole cover and choose trustworthy supplier, we can avoid those question.
Good quality manhole cover: professional technician,high precision mold,strict time of produce,high standard raw materials and so on. It's important for us to have high quality manhole cover and relative products.
Not all Composite Manhole Cover is low qulity. If you want to have good quality composite manhole cover, please cooperate with the factory who specializing in high quality products.
For our health and family happiness,please use high quality manhole cover and standard products.
If you want to order or interest good quality manhole cover other products,follow our website and welcome to inquiry.