BMC/SMC Manhole Cover, drainage cover, and the cover of the production of our company has become a reputation and a reputation. High quality products and competitive price advantages, but there are also some merchants in the market to win more customers' recognition at a lower price in order to occupy the market.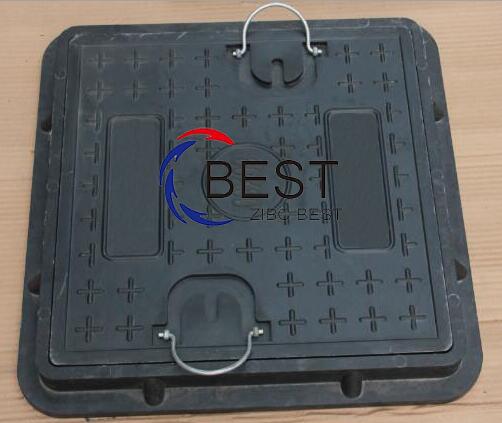 Cover size:500x500mm
Clear opening:450x450mm
1. High load rating and strength
Similar hard property like cast iron. Designed to meet A15/B125/C250/D400 loading rating, according to EN124 standard. Less noise and lower vibration transmissions.
2. Against theft and safety options
Comparing with cast iron manhole cover, composite cover has zero theft value and not attractive to thieves, which reduce the potential accident and further maintenance cost caused by thieves.
Surface anti-slip thread guarantees safe road condition even in extreme weather.
Locks are available as an option molded into the cover to improve security rate.
Non-electricity conduction and non-heat conduction, UV resistance.
3. Lightweight
Compared with cast iron manhole covers, composite covers are 30% lighter.
Lightweight allows easy of handing more loading per vehicle, more convenient transportation and economical saving.
Allows a safer working condition, which a SINGLE worker is enough for a complete when installation without risk of injury.
Easy of moving, ease and reduce the maintenance cost.
4. Durable service life
More than 30 years' theoretical service life at regular road condition without crack and color fading, comparing to same grade of cast iron manhole cover.
Anti-corrosion,waterproof, dust and pets tight, well sealed prevent poisonous gas leaking out.
Without displacement, freely radio signal passing.
Higher and lower temperature tolerance with the range -50℃-150℃.
5.Free design